Daily laminate Care
Always refer to the manufacturer's maintenance procedures to ensure proper care of your flooring. Spills happen. You can visit the Shaw Floor Care Center for details on how to clean it up, maintain it and keep it looking its best.
Laminate care is relatively simple. With routine maintenance, your laminate should age well.
Obtain a broom and put it to use regularly! Daily sweeping will help to ensure that your laminate looks great while eliminating the possibility of premature aging. When dirt and debris are left unattended, they can scratch your laminate floors. How often you need to sweep will depend on the traffic the room or rooms receive. But you should plan on doing so every couple of days.
Area rugs can help to mitigate some of the wear and tear that might take place on your laminate floors. Entry mats can also prove helpful in limiting the amount of outside dirt that enters your home.
You may also use a damp mop to clean your laminate floors but do not use too much water as it could lead to warping and other damage.
Dirt & Debris
Much like other hard surface flooring options, laminate is not overly vulnerable to damage from dirt and debris. That is so long as you remain diligent in cleaning up solid messes. Sweep your laminate floors every few days to eliminate the amount of dirt and other debris that is present.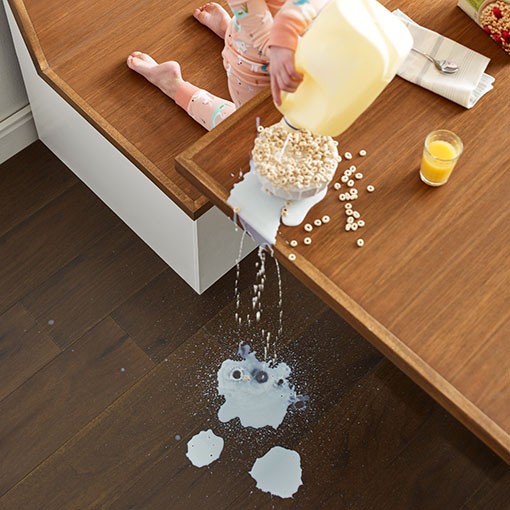 Spills
With laminate, liquid spills are not a major issue, so long as you address them in a timely manner. When and if a liquid mess occurs, grab a cloth and wipe it up. There's not much more to it than that. For difficult-to-handle liquid spills or the ones that leave lingering damage, consult your manufacturer.